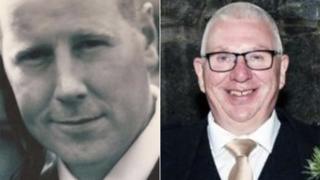 Extreme weather had an impact on the train derailment in Aberdeenshire which left three people dead, Scotland's transport secretary has said.
Michael Matheson said an investigation into the accident would establish what lessons could be learned.
Driver Brett McCullough, conductor Donald Dinnie and a passenger died when the Aberdeen to Glasgow service derailed near Stonehaven on Wednesday.
It is thought to have been derailed by a landslide after heavy rain.
Six other people who were on board the 06:38 Aberdeen to Glasgow Queen Street service were taken to hospital, but their injuries were not believed to be serious.
Mr Matheson and UK Transport Minister Grant Shapps have both visited the site of the crash.
Mr Shapps has asked Network Rail to produce an interim report by 1 September on the "wider issues" that may have led to the derailment.
He said he wanted to see resilience checks carried out in "the next few days, few hours", given the concern about flash floods in the area.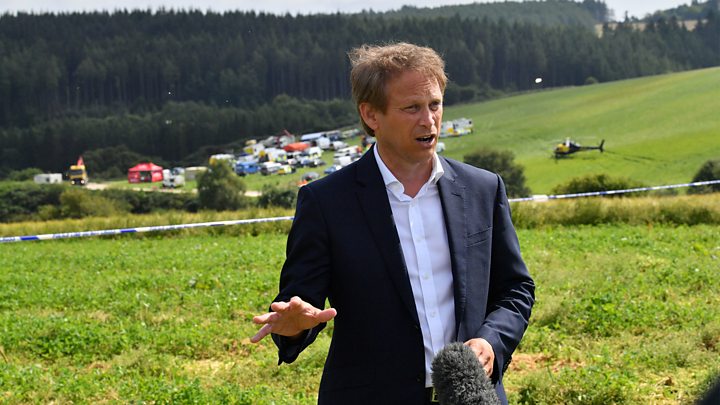 "We absolutely need to make sure it doesn't happen again and that's why I've asked Network Rail to deliver that report to me so quickly," he said.
He also said he spoke with Pc Liam Mercer, the first officer on the scene, and commended him for his bravery.
"My heart just goes out to the friends and family of the people who've been caught up in this horrendous accident," he added.
Mr Matheson said he did not want to speculate about what had caused the incident.
"What I think we can assess, though, is that weather has had an impact," he said.
"We are seeing increasingly a higher level of what are localised intense weather events that are having an impact on the transport network, including the rail network.
"What we need to do as part of the investigation is identify to what extent it had an impact and also to see what lessons can be learned."
He said some parts of the country had seen a month's rainfall in just a couple of hours on Tuesday night and Wednesday morning.
He said the derailment happened as the train driver was heading north, trying to return to Aberdeen.
It has emerged that a member of the crew got out of the derailed train to stop any other trains further down the track.
Mr Matheson said recovery crews had worked through the night to stabilise the site and make it ready for investigators trying to understand how the crash happened.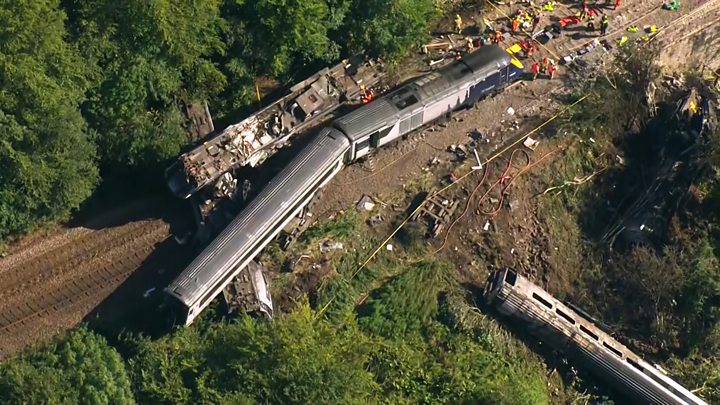 Network Rail said it would carry out detailed inspections of high-risk trackside slopes with similar characteristics to the site of the Aberdeenshire crash.
Dozens of sites across Britain will be assessed using in-house engineers, specialist contractors and helicopter surveys.
Scotland's Lord Advocate has asked Police Scotland, British Transport Police and the Office of Rail and Road, the independent regulator, to conduct a joint investigation into the accident.
It will be carried out under the direction of the Crown Office and Procurator Fiscal Service, and will run in parallel to the independent safety investigation being carried out by the Rail Accident Investigation Branch.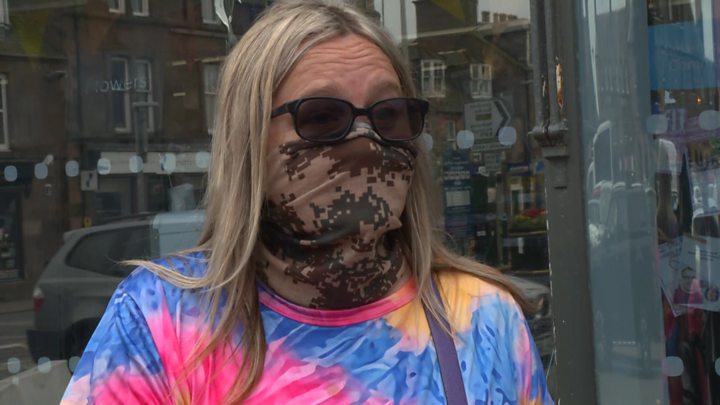 Kevin Lindsay, Scotland organiser for the train drivers' union Aslef, said the tragic accident had affected everyone in the railway family.
"Brett thought the world of his family, and his colleagues thought the world of him," he added.
First Minister Nicola Sturgeon said the "hearts of a nation" were with those affected.
She said the location and the circumstances of the accident had "presented major logistical and practical challenges for a rescue and recovery operation".
"Our emergency services yet again showed their immense professionalism and dedication to duty and I am so very grateful to them for that," she said.
Network Rail chief executive Andrew Haines visited the scene of the crash after cutting short a family holiday in Italy.
He said: "I will not pre-empt the outcome of the investigation into this awful event, but it is clear the weather was appalling and there were floods and landslips in the area.
"Our climate is changing and it is increasingly challenging the performance and reliability of the railway, but incidents like yesterday's devastating accident are incredibly rare, and our railway remains the safest major railway in Europe.
"Yesterday was a tragedy, a truly horrific event, and my thoughts remain with everyone affected. Understanding what happened is the key to making sure it never occurs again."
Speaking on the BBC's Good Morning Scotland radio programme, ScotRail's managing director Alex Hynes said: "Yesterday was a devastating day for everybody who works in the rail industry in Scotland.
"Our love and support is sent to the victims of this accident and their families, those that were injured in the accident and anybody who was touched by yesterday's terrible tragedy."