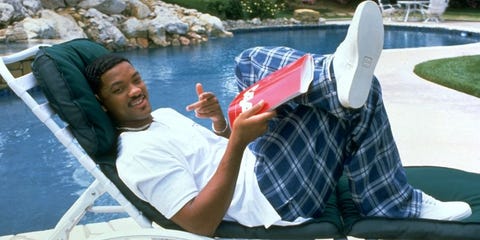 Getty Images
Summer means dinners on the grill, lazy afternoons on lawn chairs, and revving up the lawn mower every weekend. It also means swimming pools. Before you go find your swim trunks (here are some options if you're in need of a new pair), enjoy these old-school photos of celebrities hanging at the pool. Here's hoping you look half as as cool as them.
1 of 40
A young Melanie Griffith relaxes in the pool with the family pet lion Neil in 1971.
2 of 40
Jayne Mansfield poses on an inflatable raft surrounded by bottles shaped like bikini-clad versions of herself in 1957.
3 of 40
Sean Connery takes a break in a swimming pool on the set of the James Bond film Diamonds Are Forever in Las Vegas in 1971.
4 of 40
Will Smith wears plaid pants to the pool in 1996.
5 of 40
A young Ronald Reagan poses with six other actors aboard the SS America in 1940.
6 of 40
Eric Clapton (center, seated) debates how to make the "peace" sign with John Lennon and Yoko Ono at a pool in 1969.
7 of 40
Senator Richard Nixon relaxes while preparing a television speech at an L.A. hotel pool in 1952.
8 of 40
Steve McQueen and his wife Neile Adams lie on a deck chair next to the pool at their Palm Springs, California home in 1963.
9 of 40
Regis Philbin and his wife Joy enjoy a hotel swimming pool in 1989.
10 of 40
Robert Redford poses for a promotional photo for the debut episode of The Alfred Hitchcock Hour in 1962.
11 of 40
Arnold Schwarzenegger swims with his then-girlfriend Maria Shriver in L.A. in 1979.
12 of 40
Elvis Presley and his Jailhouse Rock costar Jennifer Holden spend time together in a pool, circa 1957.
13 of 40
Dean Martin (far left) poses with his second wife Jeanne (second from the right) and his kids at their Beverly Hills home in 1958.
14 of 40
Richard Gere and Valeria Kaprisky film a scene from the 1983 thriller Breathless.
15 of 40
The Beatles clown around in the pool at their Hollywood Hills hideout during their first U.S. and Canada tour in 1964.
16 of 40
Faye Dunaway eats breakfast by the Beverly Hills Hotel pool the morning after winning the Oscar for Best Actress (for Network) in 1977.
17 of 40
Audrey Hepburn takes a break from filming Two for the Road in 1967.
18 of 40
Steve McQueen dives off of his diving board at his Palm Springs, California, home in 1963.
19 of 40
The Bee Gees hang at the pool in 1974.
20 of 40
Rolling Stones guitarist Ron Wood and his first wife Krissy hang in their pool in Middlesex in 1975.
21 of 40
The Jackson 5 pose with minibikes and their parents at their pool in Encino, California in 1971.
22 of 40
Marilyn Monroe splashes in a pool, circa 1951.
23 of 40
Mr. T next to the pool at the Battle of the Network Stars in Malibu in 1983.
24 of 40
Liberace enjoys the piano-shaped pool at his home in 1954.
25 of 40
Singer Tom Jones poses by his swimming pool wearing a robe in 1970.
26 of 40
Alexandra Paul, David Charvet, and Pamela Anderson pose for a Baywatch photo call in London in 1993.
27 of 40
Frank Sinatra reads a script for Marriage on the Rocks under an umbrella at his pool in Palm Springs, California, in 1965.
28 of 40
The Beatles climb out of a pool while filming a movie, tentatively called, Beatles 2, in the Bahamas in 1965.
29 of 40
Burt Reynolds relaxes on an inflatable at the home of Dick Clark in L.A. in 1960.
30 of 40
Kirk Douglas uses a pole to lift his sons on the deck of a swimming pool, circa 1955.
Advertisement – Continue Reading Below
This content is created and maintained by a third party, and imported onto this page to help users provide their email addresses. You may be able to find more information about this and similar content at piano.io
This commenting section is created and maintained by a third party, and imported onto this page. You may be able to find more information on their web site.