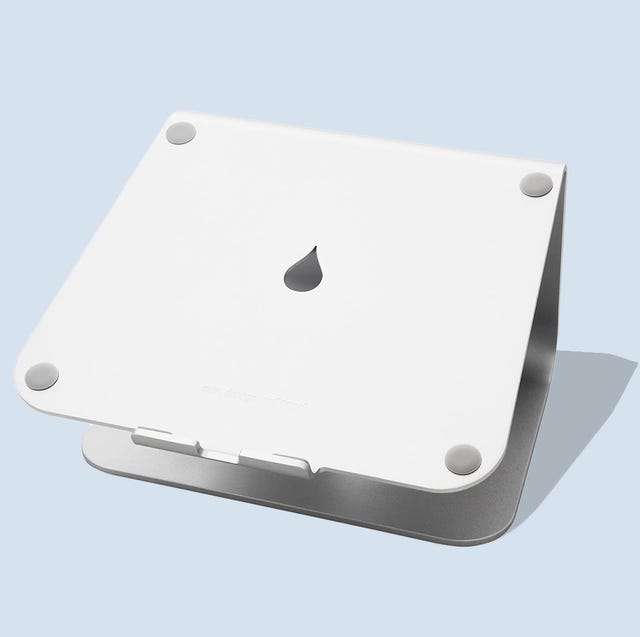 Courtesy
Office buildings often supply their computer-using employees with stands. These stands raise up laptops to less neck-breaking elevations above desks, making said employees more comfortable and, conveniently, more productive. Guess where many of us aren't right now: in office buildings. Time to fend for ourselves in the office-supply arena.
We've run through the essentials to building a nice home office from scratch, and we've dived into ergonomic office chairs. (We've also detailed many cocktails you can easily make at home, which you may or may not consider essential to remote work. Up to you.) Now, it's onto laptop stands, as many folks work from their portable computers in lieu of the whole "monitor, extraneous keyboard, and mouse" shebang. And, unfortunately, a throw pillow does not a laptop stand make.
Here are eight contenders, and at least one will support your Macbook or PC. They'll give you some elevation so you can lift your eyes, which will lift your head, which will straighten out your neck and spine (anatomy!). They'll also keep the internal wires and drives cool while clearing up desk space. Some adjust to multiple heights. Others just look cool. This is it: the long haul of home-bound work. Prep accordingly.
Advertisement – Continue Reading Below
Invisible Laptop Stand
Deconstructed, this stand looks almost like a mouse pad with an adhesive bottom. That adhesive attaches to the underside of your laptop. Then, you construct it into a 3D stand with shorter and taller screen heights, as you see here. Magnets snap it into shape, and though it's slim, it'll support laptops up to 15.7 inches.
K2 Portable Laptop Stand
Nexstand
amazon.com
$39.95
For those whose home office is "wherever the hell I feel like putting the laptop down today," portability could be handy. Though not remarkably stylish, this stand folds down, kind of like a tripod, to carry around the house or throw in a backpack. Besides that, it adjusts to eight different positions and works with most laptops.
mStand Laptop Stand
As basic as a laptop stand can be in terms of functionality, this Rain stand distinguishes itself from other basic options by not being horrendously ugly and outrageously space-gobbling. It gives the screen a six-inch vertical boost, the angle is kind on wrists, and there's a hole out the back through which to wind cords neatly.
Formwork Media Stand
Herman Miller
hermanmiller.com
$60.00
If utter minimalism is your aesthetic of choice, you can't get much more minimalist than this designer stand. The back edge sits almost two inches off a desk, the cover is non-slip, it suits tablets as well as laptops, and honestly, that's about it. No reason to complicate matters.
iLevel2 Laptop Stand
It's hard to beat what this more deluxe Rain stand brings to the table (or desk, heh). The build is streamlined and that little knob on the front adjusts the angle of the laptop shelf, thus adjusting the height of the screen. By design, it's best used with a keyboard and mouse beyond those on your Macbook or notebook. 
Chroma Laptop Stand
Here we cross into bells-and-whistles territory. Razer, known for its gaming technology, makes a laptop stand with lights along its brim that you can customize yourself. Flair aside, it also incorporates three USB ports to plug in more stuff with less wire chaos, and most importantly, gives your screen a nice lift off the desk.
Laptop Lift
Grovemade
grovemade.com
$120.00
It might not have adjustable heights, but really, based on looks alone, aren't you swayed? Just read through this calming list of materials that went into its construction: German merino wool felt, natural cork, vegetable tanned leather, and stainless steel, on an aluminium base. Grovemade ensured that it is compatible with all laptops too. 
Yohann Macbook Stand
Yohann
yohann.com
$179.00
First, two caveats: This stand only works for Macbook or Macbook Pro, and you really need to use it with a separate keyboard and mouse. Now that that's squared, revel in its natural beauty. Crafted in Italy from walnut or oak—your call on which you order—it looks like a burnished piece of driftwood plucked from the sea, or a forest gnome's front door. And it'll clear up your desk space and keep your machine cool.
Subscribe to Esquire Magazine
This content is created and maintained by a third party, and imported onto this page to help users provide their email addresses. You may be able to find more information about this and similar content at piano.io
This commenting section is created and maintained by a third party, and imported onto this page. You may be able to find more information on their web site.
Advertisement – Continue Reading Below