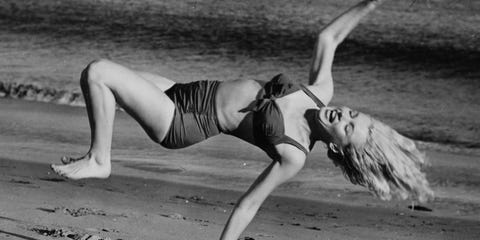 Getty Images
We make sacrifices for the beach. No one likes the stowaway sand that sneaks between your car seats and coats the floor of your entryway. Sunburns aren't fun at all. And wrestling with a beach umbrella is flattering on exactly no one. But the beach, ah, the beach, is, in its totality, a wonderful thing, as these celebrities remind us. Consider these photos inspiration for the next time you're contemplating a beach day.
1 of 69
Paul Newman smiles at the camera as he walks along the seashore in 1963.
2 of 69
Grace Kelly lounges on a beach towel in France, circa 1955.
3 of 69
Neil Hamilton, star of The Great Gatsby, poses for a beach photo outside his Malibu cottage, circa 1926.
4 of 69
Midnight Mystery star June Clyde soaks up the sun underneath a cellophane blanket in 1932.
5 of 69
Doris day and her husband sunbathe on the beach on May 6, 1955.
6 of 69
Orson Welles and Rita Hayworth stroll along the Miami Beach boardwalk.
7 of 69
Joan Crawford sits under a beach umbrella with her new husband, Douglas Fairbanks Jr.
8 of 69
Pablo Picasso and Fracoise Gilot put their feet in the water, circa 1950.
9 of 69
Doris Day and her husband Marty Melcher relax on the beach in France during the Cannes Film Festival.
10 of 69
Sean Connery prepares to take a dip in the ocean.
11 of 69
Bette Davis poses on a boat, circa 1933.
12 of 69
Rock Hudson smokes a cigarette on the beach in 1940.
13 of 69
Audrey Hepburn soaks up the sun while Albert Finney relaxes in the shade during the filming of Two for the Road in 1966.
14 of 69
Marilyn Monroe lays in the water as waves crash upon the shore in 1955.
15 of 69
Elizabeth Taylor and husband Richard Burton relax in the sand while they film The Sandpiper in 1965.
16 of 69
Lucille Ball poses for a glamour shot next to a giant beach umbrella in 1943.
17 of 69
Shirley MacLaine and friends watch Tony Randall hula hoop in 1958.
18 of 69
Rock Hudson and Vera-Ellen enjoy the dog days of summer while lounging on a beach towel, circa 1955.
19 of 69
Actress Mildred Harris, the first wife of Charlie Chaplin, applies make-up on set, circa 1923.
20 of 69
Ramón Novarro prepares to catch a beach ball in 1928.
21 of 69
Sean Connery holds co-star Ursula Andress' legs while she does a handstand on the set of Dr. No in 1962.
22 of 69
Raquel Torres dumps sand out of her shoe in 1935.
23 of 69
Betty Grable takes a nap as she catches some rays in 1937.
24 of 69
Joan Crawford leans on husband Douglas Fairbanks Jr. while taking it easy in the sand.
25 of 69
Ava Gardner soaks up the sun while shooting Pandora and the Flying Dutchman in 1951.
26 of 69
Marlene Dietrich shows off her signature style while posing seaside in France.
27 of 69
Ronald Reagan sits on the boardwalk with his co-stars in a publicity photo for The Girl From Jones Beach.
28 of 69
Bob Denver has a little beach day fun with his family and an inflatable in Malibu Beach.
29 of 69
Shirley MacLaine models her swimsuit while standing on the rocks under a pier, circa 1955.
30 of 69
Candice Bergen flexes while resting her foot on a dog laying in the sand in 1968.
Advertisement – Continue Reading Below
This content is created and maintained by a third party, and imported onto this page to help users provide their email addresses. You may be able to find more information about this and similar content at piano.io
This commenting section is created and maintained by a third party, and imported onto this page. You may be able to find more information on their web site.